Briefly, HERS stands for "Home Energy Rating Systems" and a "HERS Rating" is an index score or numerical evaluation of the energy features contained in a residence or residential building. A HERS Rating Index number is similar to the MPG or 'Miles-per-Gallon' rating of a new vehicle. Cars that have higher MPG ratings are more efficient and go further per gallon of gas or diesel fuel. Homes that have lower HERS Ratings use less energy for heating, cooling, water heating, and other energy using items.  The HERS Index number goes downward as the efficiency of a home gets better, just think of it like a golf score.
A home that gets a HERS Rating score of 100 means that this home exactly meets the energy reference; roughly equal to the 2006 International Energy Conservation Code. A home that gets a HERS Rating score of 0 (zero) means that the home requires no outside energy input to stay warm or cool or provide power for energy consuming items. It is considered to be a "Zero Energy Home".  The U.S. Department of Energy has determined that the typical resale home scores 130 on the HERS Index, which is 30% higher energy usage than the energy reference.  Today's building energy conservation codes vary based on where a home is being built, but they range from 15% to almost 50% more efficient than the energy reference with HERS Index numbers from 51 to 85.  It is possible to have a negative HERS Rating Score, which means that the home produces more energy, typically by solar or wind energy systems, than it needs over the course of a year.
There is confusion as to the difference between a residential 'energy auditor' and a home energy 'Rater' or 'HERS Rater'. Much of the confusion is understandable since an energy auditor and a HERS Rater both evaluate energy efficiency in residential dwellings and their functions appear to be quite similar. However, HERS Raters are nationally trained and certified to provide an investment grade energy analysis and their work is overseen by several levels of quality assurance.  Because of this, a certified HERS Rater meets the requirements to perform analysis, verification, and energy modeling for a number of national programs.  There are certification programs for those calling themselves an energy auditor or building analyst; but there is no requirement for or oversight of this certification; anyone can call him or herself an energy auditor: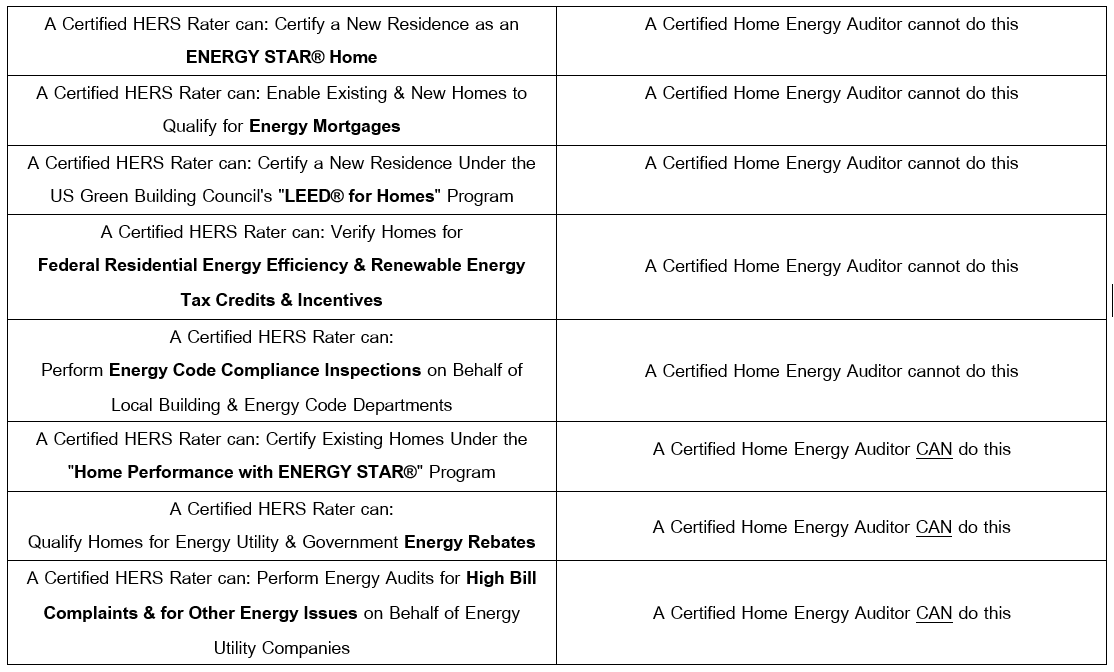 HERS Raters are trained by accredited training providers and certified by accredited quality assurance providers to analyze and quantify building energy performance in both new and existing homes and other residential dwellings. They calculate the energy usage of a residential building and determine the Home Energy Rating System Index Number for the building.  This process is standardized across the nation and requires the use of certified software.  Because of the level of standardization and normalization, HERS Ratings are used nation-wide to qualify homes for multiple programs and incentives.  HERS Ratings are performed on existing homes and are commonly used in new construction to qualify homes for programs such as ENERGY STAR, LEED for Homes, NAHB Green Build, Energy Efficiency Mortgages/Energy Improvement Mortgages, and the Federal Energy Tax Credit.
HERS Rater training includes training on all aspects of energy usage in a home, heat flow, air flow, moisture flow, heat load calculations, proper use of infiltration and duct leakage testing equipment and interpreting results, reading and working with building plans, creating scaled sketches, proper use of certified software, climate zones, construction techniques, alternative energy systems, thermal bypass and insulation installation inspections and reporting.  To complete certification, two simulated ratings, one simulated combustion appliance zone safety testing session, and one rigorous written exam must be taken and passed and five probationary ratings must be satisfactorily performed within one year as an internship with a Quality Assurance Provider.
There are also national certification programs for Energy Auditors, the Building Performance Institute (BPI) Building Analyst is one such certification.  BPI Building Analysts are trained and certified to perform energy audits on existing homes.  They analyze the energy usage of the home and its occupants as well as evaluate the home for any health and safety issues.  Energy audits are not normalized but are specific to the particular home and occupants being examined.  There is no specific software tool required, however, there are standards that must be followed.  These standards are used to ensure that no harm is done to the residence or its occupants as a result of the audit or completion of the resulting work order.
BPI Building Analyst training, however, is not standardized, accredited, or overseen by BPI.  It is expected to include training on all aspects of energy usage in a home, heat flow, air flow, moisture flow, potential health and safety issues, proper use of infiltration, duct leakage, carbon monoxide and combustible gas testing equipment and interpreting results, understanding and interpreting BPI Standards, and writing work orders.  There are several utility programs and state programs that require BPI Building Analyst Certification in order to be listed as a qualified energy auditor.  To complete certification, a two-hour 100 question test must be taken, and a minimum 70% score must be achieved.  (Candidates already certified as HERS Raters will take a 90-minute, 50 question test.)  A field test must be taken to demonstrate equipment proficiency and appropriate use and interpretation of BPI Standards.
Energy Auditors may, or may not, be trained.  They may or may not use equipment and perform testing.  They may or may not perform a thorough inspection of all areas of the structure to verify existing conditions.  They may or may not understand and test for health and life safety issues that can be exacerbated by energy improvements such as air sealing and insulating, before recommending changes.  Anyone can call themselves an energy auditor.
If you are interested in receiving a comprehensive, investment grade energy analysis of your home, or of a home you are considering purchasing, along with a prioritized list of improvements with specific information regarding health, safety, building durability, and energy savings, you are interested in a HERS Rating.
Learn more about becoming a HERS Rater here.
---