What is the Difference Between a HERS Rater, an RFI, and a Residential Energy Auditor?
First of all, the term 'HERS' stands for 'Home Energy Rating Systems' and a certified HERS Rater is a residential energy efficiency professional that understands building science, heating & cooling equipment, residential building construction, clean energy systems, ventilation & filtration and much more. A Rating Field Inspector or 'RFI' performs the energy tests and inspections required for a residential energy rating on behalf of their affiliated certified HERS Rater. An energy auditor also tests and inspects residences for energy efficiency but has limitations that raters do not have.
Here are Some Example Programs Authorized for Certified HERS Raters but not for Energy Auditors:
Approve Energy Efficiency and Renewable Energy Tax Credits and Incentives;
Provide testing and verification services for energy code compliance inspections;
Approve and certify residences under national energy efficiency programs;
Approve and certify residences under national green/sustainable programs;
Qualify homes to receive benefits through lucrative energy mortgage programs: (See video below)
I am new to this industry – do you have a recommended training/certification/work path for me to follow?
Congratulations on choosing to become involved with energy and green!  There is a lot to learn and even those of us who have been working in this field for over four decades are still learning new things every single day.  The recommended path below will help you gain expertise one step at a time.
RESNET Certified Rating Field Inspector (RFI) – preparing for this certification will provide the RFI Candidate training on energy usage in a home, creating scaled sketches, gathering energy usage data in the field, proper use of infiltration and duct leakage testing equipment and understanding of basic residential construction techniques and materials. The RFI Candidate must take and pass the Combustion Appliance Zone simulation test.  A Rating Field Inspector works under a Certified HERS Rater who is responsible to complete the RFI's certification by overseeing their performance in the field while they gather data for three Home Energy Ratings.  Information on recommended RFI Training courses can be found here.
RESNET Certified Energy Modeler - This class teaches the data points that must be gathered and input into Rating software to generate an accurate energy model.  It includes reading plans, calculating building dimensions, energy modeling of the structural components, mechanical systems and equipment, on-site energy generation, on-site test results, lighting, appliances, and other building information.  It provides information about the accredited energy modeling software tools and generating and interpreting HERS Rating reports.  This is a brand-new certification designation. Learn more about the energy modeler certification and course here.
RESNET Certified HERS Rater – this class will add training on heat load calculations, reading and working with building plans, proper use of certified software, climate zones, advanced construction techniques, thermal bypass and insulation installation inspections and reporting.  To complete certification, two simulated ratings, one simulated combustion appliance zone safety testing session, and one rigorous written exam must be taken and passed and five probationary ratings must be satisfactorily performed within one year as an internship with a Quality Assurance Provider.  Learn more about becoming a HERS Rater here.
Where you go from here is up to you. There are advanced HERS Rater training and certification classes available, you may choose to become a Green Rater, to qualify to certify homes for national green programs, to include infrared inspections in your offerings, etc.  There are also advanced designations focusing on ENERGY STAR verification, HVAC system commissioning verification, and more.
Learn more about the difference between a HERS Rater and Energy Auditor here.
ICC Residential Energy Inspector/Plans Examiner
https://shop.iccsafe.org/residential-energy-inspector-plans-examiner.html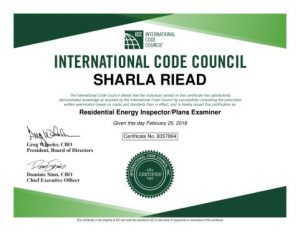 The ICC website gives two (2) options to select the version of IECC energy codes to be tested on: 2015 or 2018 IECC
The exam format is online only.
Use the website link shown above view testing criteria for the: 79 - Residential Energy Inspector/Plans Examiner
Exam fees are non-refundable except at the sole discretion of ICC.
Before you finalize your exam purchase, please check the following for accuracy:
Exam title
Code year
Method of testing
Candidate name - exam purchases must be made under the myICC log-on of the candidate

Candidate name must match the ID to be used at exam time
To purchase the IECC 2018 Soft Cover Book: https://shop.iccsafe.org/2018-international-energy-conservation-coder-soft-cover.html
To purchase the IECC 2015 Soft Cover Book: https://shop.iccsafe.org/2015-international-energy-conservation-coder-soft-cover.html
ICC and RESNET Create New Voluntary Energy Certification – IECC/HERS Compliance Specialist
Direct Article Link: https://www.iccsafe.org/building-safety-journal/bsj-hits/code-council-and-resnet-create-new-voluntary-certification-for-building-safety-industry/
New Certification:
"International Energy Conservation Code (IECC)/Home Energy Rating System (HERS) Compliance Specialist"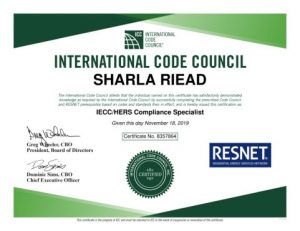 The International Code Council and the Residential Energy Services Network (RESNET) developed a new certification designation, the International Energy Conservation Code (IECC)/Home Energy Rating System (HERS) Compliance Specialist. This certification combines the energy code knowledge of code officials with the energy efficiency knowledge of HERS raters to identify experts in energy plan review and inspection. The credential leverages the strengths of both organizations to increase the number of qualified individuals available for evaluating energy code compliance and home energy performance.
The IECC/HERS Compliance Specialist designation verifies competency in energy performance measurement and energy code proficiency. These certified specialists can supplement the work of jurisdictions facing resource constraints that affect their ability to conduct the necessary reviews. IECC/HERS Compliance Specialists may now be used for both code compliance and energy performance rating services.
The Code Council is the preeminent certification body for credentialing code professionals. Code Council certifications are often prerequisites for those seeking positions that review building plans and inspect homes and buildings for compliance with applicable codes and standards. The Code Council is also the publisher of the most widely adopted building safety codes in the world and the expert on testing for understanding and application of codes and standards.
RESNET is a national standard-making body for building energy and water efficiency ratings and certification of systems. RESNET provides training and certification to industry professionals who rate the energy efficiency of homes through the HERS rater certification. Rigorous training and testing are done to ensure mastery of the application of rating tools so that builders and developers, in addition to homeowners, can get an accurate estimation of a home's energy efficiency. As the gold standard for inspecting, testing and rating a home's energy performance, RESNET has led the market for the past 20 years and delivered home energy ratings for more than 2.6 million homes in the U.S.
For more information on the IECC/HERS Compliance Specialist certification, please visit www.iccsafe.org/ECS.
How is it possible to learn to become a HERS Rater or Rating Field Inspector from an online course?
A number of factors have affected the evolution of the certified home energy rater (HERS* Rater); the updating of building and energy codes, the introduction of new products and technologies and the advent of mobile computing options.
However, no factor has pushed the certified rater training faster than the scalability of online learning tools that allow vastly more participants than in-class versions. It makes sense to utilize online learning systems in order to train and certify the many thousands of certified home energy raters and rating field inspectors (RFIs) that are urgently needed.
What is missing from the online electronic education systems is the interaction that happens when the instructor(s) and students meet in-person. Also, there is really no substitute of showing how to set up a blower door properly or conduct a duct pressurization test. Most of us need to watch equipment being set up and operated correctly, and often need to perform the set ups ourselves to feel comfortable.
So, the current procedures that EnergySmart Institute and RESNET have adopted is a mix of online and in-person sessions. This mix seems to work best for the majority of people in that taking courses in an online, on-demand format makes it possible to study when time is available, day or night.
There are also online energy testing simulation tools that can be accessed when convenient and available for multiple practice sessions until the student feels comfortable.
The national tests that are administered by RESNET require a proctor to visually watch the student(s) take the online timed exams. It is during this time frame that a student needs to travel to take the national tests that mentoring time can be scheduled to practice using the various types of energy testing equipment.
To set up proctored tests or mentored in-person training at EnergySmart Institute just use the "Contact Us" tab/link and either call or send an email request specifying what you want and how to get back to you using phone and/or email. The staff at ESI will help get the test or mentoring sessions scheduled.
*HERS – Home Energy Rating Systems – More info at: RESNET.us
RESNET Certifications and Programs
FAQs for information related to the Residential Energy Services - RESNET.us
RESNET information applicable to:
Home Energy (HERS*) Raters
Rating Field Inspectors
Energy Code Officials and Inspectors
Building Code Officials and Inspectors
Federal, State and Local Government Energy Incentive Programs
Energy Utility Incentive Programs
National Energy Efficiency Programs such as the ENERGY STAR® program by the US EPA
National Residential Green Programs such as LEED® for Homes by the USGBC and the National Green Building Standard® by the NAHB
Secondary Energy Mortgage Markets such as Fannie Mae, Freddie Mac, FHA, VA and More
National Housing Programs that can require RESNET HERS* ratings such as HUD and Military Housing
Private investors and lenders who require levels of quality assurance for their loans and investments
*HERS - Home Energy Rating Systems - More Details Available At: RESNET.us
News Article on Difference between IECC Energy Rating Index and HERS Index
This information applicable to home energy raters, building and energy code officials, lenders and others involved in residential construction and energy codes.
News Article on Difference between IECC Energy Rating Index and HERS Index from RESNET.us News Update Files:
The 2015 and 2018 versions of the International Energy Conservation Code (IECC) contain an Energy Rating Index (ERI) –  Section R406 alternative compliance path for residential buildings.
The 2015 IECC did not reference a standard for the ERI calculation and most certified RESNET HERS® Raters observed that the 2015 IECC ERI was the same value as the HERS Index, since their rating software used the same standard as used by RESNET for HERS Ratings. For the 2015 IECC this is true.
This worked until the 2018 IECC was adopted.
The 2018 IECC explicitly references the same underlying standard used to calculate the HERS Index, ANSI/RESNET/ICC 301, yet HERS Raters have observed a difference between the calculated 2018 IECC ERI and the HERS Index. While the biggest difference is caused by the 2018 IECC modification in the modeled ventilation rate, that's just part of the variation.
There are several reasons for the additional variation. First, the 2018 IECC can only reference one version of a Standard, that was published at the time the code was being developed. In the case of 2018 IECC, Section 406 refers to the ANSI/RESNET/ICC Standard 301-2014, with Addendum A and B.
It must be remembered that RESNET HERS ratings are not tied to the code and are required to comply with the most current version of Standard 301. This means that HERS ratings are dynamic and based on all addendum to Standard 301, based on their effective dates.
The 2021 version of Section 406 of the IECC will refer to ANSI/RESNET/ICC Standard 301-2019
It is for this reason that RESNET HERS Index scores and IECC Section 406 ERI scores will always remain out of sync to varying degrees.
As an example, homes with permits in the fall of 2020 and seeking a HERS Rating will be using ANSI/RESNET/ICC Standard 301-2019. If their state has adopted 2018 IECC, their code-compliance ERI will still be based on the much older 2014 version of Standard 301 with Addendum A and B.  The result is different index scores, since the older version of Standard 301 with only Addendum A and B was before amendments like the Index Adjustment Factor or the allowance of credit for LED lighting.
How does this affect HERS Raters and Builders? Not much, as long as they understand the difference in scores. The IECC Section R406 ERI is a snapshot in time where the sole audience is your local code official. The HERS Index is a value that can evolve over time and is used to represent the energy performance of a home to homeowners, homebuyers, renters, utilities, and program implementers.
The table below demonstrates some of the other differences between the HERS Index and the ERI as calculated in accordance with the 2018 IECC.