REMCheck and REMCollect
Residential Energy Management Quality Assurance and Field Data Collection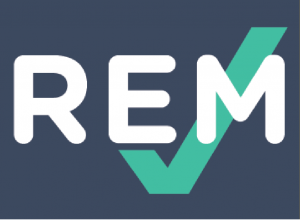 No matter whether you are an energy efficiency testing organization of one or one thousand, or an energy or utility program manager, or a codes department working with energy professionals, the programming behind the REMCheck and REMCollect systems will handle your program and project tracking and quality assurance processes.
REMCollect is a mobile field data collection tool that automates and streamlines the work of collecting all data in the field required to develop an accurate energy model.  It tags photos taken to the item being input and automatically synchronizes all the photos and data from the field back to the REMCheck desktop tool.

Best of all, after you input all the relevant data to the REMCollect tool from the field or from a set of plans/blueprints you can hit the hammer in REMCheck and instantly get an energy model file that can be read by REM/Rate* or REM/Design* energy modeling software and can be quickly translated to other Residential Energy Services Network (RESNET) approved energy modeling tools.  No need to spend hours back at the office generating energy models in clunky modeling software tools!
Even if you don't use REM/Rate or REM/Design software you can use the quality assurance or QA tools built inside REMCheck to have it perform hundreds of checks for errors instantly plus provide guidance for over 400 visual checks that a computer cannot validate. No other software or cloud-based tool offers this much QA help. Your clients expect high quality information in your energy reports and REMCheck plus REMCollect help you achieve that.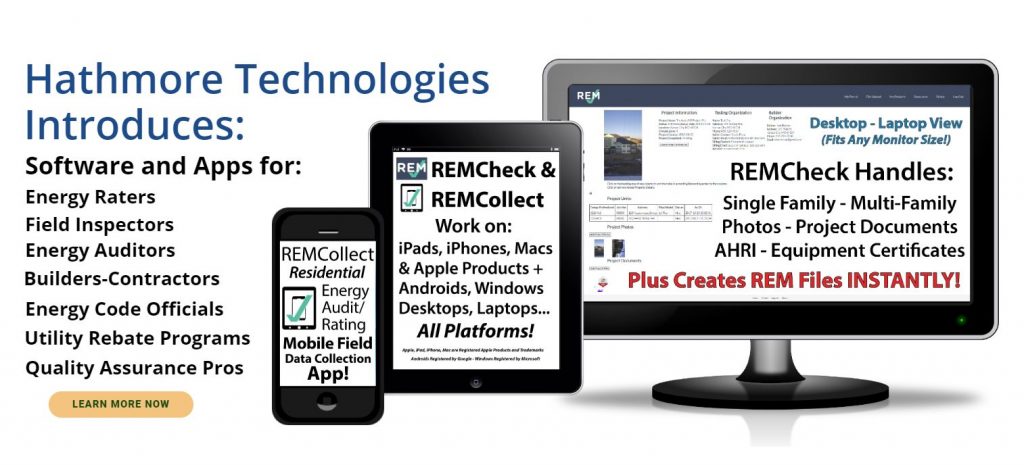 REMCheck and REMCollect work on iPads, iPhones, Macs & Apple Products + Androids, Windows, Desktops, Laptops... ALL PLATFORMS!
Register and try for free at: REMCheck.com
If you would like more details about these remarkable tools, please click on the following link: https://hathmore.com/hathmore-introduces-remcheck-and-remcollect/
*REM/Rate® and REM/Design® are trademarked names by NORESCO
REM/Rate® and REM/Design® are available as free trial downloads at: https://remrate.com
---
Please view the following videos to learn how to register for and use REMCheck and REMCollect.
If you are working for yourself or are working for an organization that has not yet tried using the REMCheck/REMCollect systems, please watch this registration video:
If you have been given a unique organization code from your company to use for your REMCheck/REMCollect registration then this is your video:
---
Advanced Videos about REMCheck and REMCollect:
*REM/Rate® and REM/Design® are trademarked names for REM software by NORESCO - For more information please visit: https://remrate.com