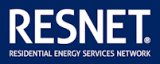 To become a certified HERS

Rater

:
Complete training with a RESNET Training Provider such as EnergySmart Institute's RESNET HERS Rater Online, On-Demand Training .
Study and practice with the simulation tools.  There are two tools to practice with; the RESNET Practical Simulation Tool and the RESCAZ simulation tool.  Use the available help documents and videos inside the tools to learn how to navigate the simulations and to learn about RESNET's standards in performing HERS Ratings and Combustion Appliance Zone (CAZ) testing.  (Access to these tools for practice is included in HERS

Rater

and RFI Training through EnergySmart Institute)
Have your tests proctored by a RESNET Training Provider. The test fees paid to RESNET for all three (3) simulation exams are $400.00.  The HERS

Rater

and CAZ written test requires a $125.00 payment.  Exam fees are payable to RESNET by credit card at the beginning of the exam.  Proctoring fees vary by Training Provider.  To have the EnergySmart Institute proctor your exams please notify us: Exam Proctoring Request.
Join a RESNET Rating Provider - the fee for this varies by Provider organization.  Not all Rating Providers accept independent HERS

Raters

.  You can find a list of Rating Providers here: http://www.resnet.us/professional/programs/search_directory
Complete a minimum of five Probationary Ratings and In-Field Combustion Safety Training with a Quality Assurance Designee (QAD) working with your Rating Provider. Work with the QAD to learn your provider's rating system.  The provider is also who will certify you as a HERS

Rater

.  You have one year from the time you pass all the exams to complete your probationary ratings and obtain your certification.
To learn more about becoming a certified RESNET HERS Rater please use the following link: https://www.resnet.us/raters/hers-raters/become-rater/
*HERS - Home Energy Rating Systems.  For  more details see: RESNET.us