Approved Online On-Demand

RESNET

- Residential Energy Services Network Courses: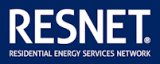 ---
ENERGY STAR Multifamily New Construction Certification for Raters, HERS Modelers, and RFIs
CEUs: 18 RESNET
This fully online, on-demand course provides the required training for those verifying under the ENERGY STAR Multifamily New Construction program.  This is an EPA Approved training course for HERS Raters, Rating Field Inspectors, and HERS Modelers.  The training assumes the student has already taken the ENERGY STAR Single Family New Homes required training and builds from that base of understanding to provide the specifics required for the certification of Multifamily projects.  This course is current with the ENERGY STAR Multifamily New Construction, Version 1 / 1.1 / 1.2 (Rev. 02) checklists and includes information about what is coming in the Rev. 03 checklists.
Cost: $280.00
OR
---
HERS Modeler Certification for REM/Rate & Ekotrope
CEUs: 36 ESC | 18 RESNET 
Being a HERS Modeler is much, much more than data entry.  The ability to generate an accurate energy model is one of the most difficult and critical responsibilities of a HERS Rating.  This course provides information about home energy ratings, but also about the energy and construction considerations that must be made when developing an energy model.  Students can expect to learn construction math and building science as well as obtain a working knowledge of where the model data comes from and why it is important.  An understanding of what data are gathered in the field, what to expect from that field data gathering, and how to turn that data into modeling information and enter it into HERS Modeling tools is all included in this training. YOU HAVE THE CHOICE: This course can be used to become certified as a HERS Modeler for the Ekotrope software or REM/Rate software or both!
Cost: $545.00
OR
---
ENERGY STAR Version 3 Certification Training for HERS Raters, HERS Modelers, and Rating Field Inspectors (RFIs)
CEUs: 18 RESNET
This 18 CEU online, on-demand training class teaches HERS Raters, HERS Modelers, and RFIs what they need to know to  verify homes for the ENERGY STAR Program.  This course is open to HERS Raters/HERS Modelers/RFIs who are new to ENERGY STAR as well as those who are already ENERGY STAR Certified.  This course includes details about the ENERGY STAR v3.0/v3.1 program using the Revision 8 Checklists.  Please Note: This course does not include the new ENERGY STAR Multi-Family program - that is becoming available in a separate course.  This course does include component by component verification protocols, partnering with ENERGY STAR, information about logo use, marketing materials and ongoing support.  The ENERGY STAR Exam is included; which must be passed in order to become certified as an ENERGY STAR qualified HERS Rater/HERS Modeler/RFI and/or obtain the 18 CEUs.
Cost: $350.00
OR
---
Insulation and Radiant Barrier Evaluation
CEUs: 0.5 ICC | 5 ESC | 5 RESNET
This online, on-demand training class will be of interest to Insulation Installers, HERS Raters, RFIs, Code Officials, and General Contractors. The amount of items and standards to be considered and evaluated when determining the quality of a residential insulation job or the installation of radiant barriers is surprising. The installation, the application, and the specific materials used all have their own set of requirements. After those have been met, the installation itself must be evaluated to determine the quality of that installation. Insulation and Radiant Barrier Evaluation walks you through all these considerations and explains how Grading works for insulation and radiant barrier installations according to the ANSI/RESNET/ICC 301 Standard.
Cost: $100.00
OR
---
Indoor Air Quality and Mechanical Ventilation
CEUs: 0.5 ICC | 5 ESC | 5 RESNET
This online, on-demand training class is targeted to HERS Raters, RFIs and Code Officials; but will be interesting to anyone who breathes while inside their residence. You will learn all about Indoor Air Quality (IAQ), carbon monoxide production, and mechanical ventilation systems. It also explains code calculations for required ventilation air and changes to those codes over the years, including how to take measured air infiltration into account and what you need to know to test and verify the air flow of mechanical ventilation systems according to the latest residential codes.
Cost: $100.00
OR
---
Overview of Solar Technologies and Solar Construction
CEUs: 0.2 ICC | 2 ESC | 2 RESNET
This course is designed to be an introduction to passive and active solar systems that includes a history of how solar features were included in ancient dwellings up to the present time. This quick but comprehensive course includes:
How solar photovoltaic (PV) collectors are manufactured, the types of PV collectors available, and their efficiencies.
The difference between passive and active solar systems and an examination of their components.
How to size and determine the cost of a solar electric (PV) system.
How to calculate the federal tax credit incentives for residential renewable energy systems.
How to find additional rebates, incentives, funding, and other programs for residential renewable energy systems.
Cost: $50.00
OR